Handy GPS performs all the functions of a dedicated hiking GPS. It displays your location in either UTM or lat/lon coordinates, has a "goto" function, an odometer, a magnetic compass*, and displays your waypoints and tracklogs on a map.

This popular app is perfect for outdoor activities like hiking, bushwalking, mountain biking, kayaking, boating, horse riding, surveying, mining, archaeology, and forestry. It has now been downloaded more than a million times, and is available on Android, iOS, and Windows Phone.

The Android version also includes a fully featured stand-alone app for Android Wear watches.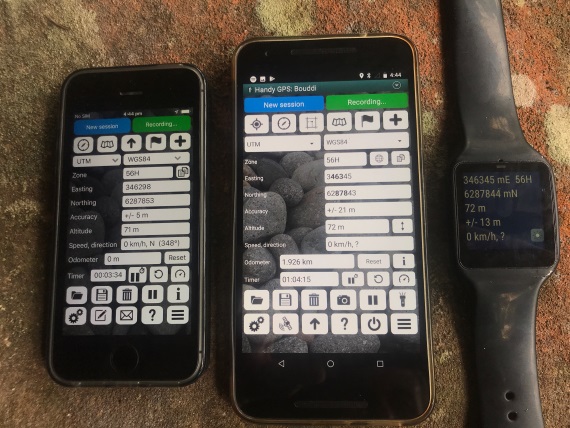 The iPhone, Android, and Android Wear versions of Handy GPS.
*
The magnetic compass feature is only available on iPhones and on Android devices which have a magnetic field sensor.
For details about the latest updates to the app, visit the
HandyGPS FaceBook page