Handy GPS
Last updated: Aug 2017
This app performs all the functions of a dedicated hiking GPS. It displays your location in UTM or lat/lon coordinates, has a "goto" function, an odometer, a magnetic compass*, and displays a map of stored waypoints and your track log.

This is a popular app for hiking, bushwalking and many other outdoor uses. It has now been downloaded to more than a million devices, and is available on Android, iOS, and Windows Phone.

HandyGPS for Android also includes a version of the app for Wear. This was developed as a stand-alone app for the Sony Smartwatch 3, which includes its own GPS receiver. The app also will also work on other Android Wear watches such as the Moto 360 if they are paired with a phone.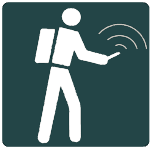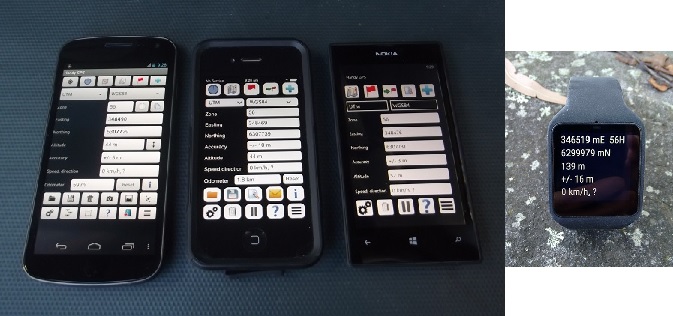 The Android, iPhone, Windows Phone 8, and Android Wear versions of Handy GPS. The devices are a Samsung Galaxy Nexus, iPhone 4, Nokia Lumia 520, and Sony Smartwatch 3 respectively.
*
The magnetic compass feature is only available on iPhones and on Android devices which have a magnetic field sensor.
For details about the latest updates to the app, visit the
HandyGPS FaceBook page