Mobile apps
Mapping utilities
KML tools
File Utilities
Links
Geographic Tool
Last updated: 16 Jun 2014
This program allows you to easily convert coordinates between Easting/Northings and Lat/Lon coordinates in the WGS84 datum. Once you've converted your coordinate, you can view the location in Google Earth with the click of a button.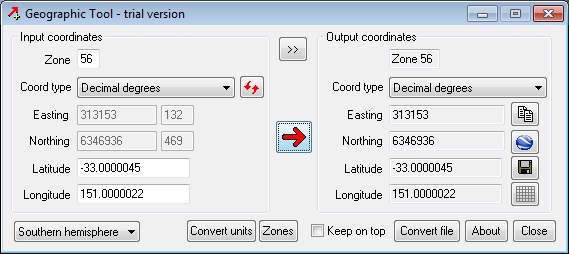 Features
Convert between Lat/Lon and UTM coordinates in the worldwide standard WGS84 datum.
Display converted locations in Google Earth (if installed)
Save coordinates to Google Earth KML files.
Perform batch coordinate conversions on data in text files (comma (CSV) and space delimited formats).
Display the converted location in Maidenhead format.
Convert between feet, metres and other common distance units.
Display lat/lon coordinates in decimal degrees, DMS, and DM formats
See also the Australian / New Zealand version called AusDatumTool.
Mobile apps
Mapping utilities
KML tools
File Utilities
Links