Australian Datum Tool
Last updated: Dec 2016
This program allows you to easily convert coordinates between Easting/Northings and Lat/Lon coordinates in a number of different datums such as AGD and GDA. Once you've converted your coordinate, you can view the location in Google Earth with the click of a button.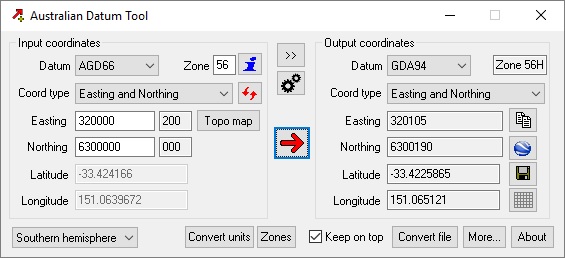 Screen shot of AusDatumTool on Windows 7 (click on image to toggle between compact and expanded views)


Watch a YouTube video about AusDatumTool





See a list of the latest updates here.

Click here to see the diverse applications that people are using this tool for.
There is no installer, so simply open the zip file and drag the files onto your Windows Desktop, or to another folder. Run by double-clicking the AusDatumTool exe file. It runs on Windows XP, Vista, 7, 8 and 10. (Mac OS X users and Linux users click here).
Features:
Conversion between UTM and Lat/Lon
Conversion between supported datums
View converted coordinates in Google Earth, if installed (WGS84,GDA94 and NZGD2000 datums)
Convert between UTM coordinates and grid refs.
Show extents of any modern Australian map sheet.
Support for historical Australian miles/military map coordinates (ANG) and grid refs.
Time-dependent conversion between WGS84 and GDA94 to account for datum shift due to tectonic plate movement
Built-in datum shift parameter calculator for ANG datum.
Maidenhead Locator tool.
Optional NTv2 grid shifts between AGD66 or AGD84 and GDA94 datums for sub-metre accuracy.
Can compute grid convergence and point scale factor.
Supported datums:
Australian: AGD66 (AMG), AGD84 (AMG), GDA94 (MGA), ANG
New Zealand: NZGD49, NZGD2000
International: WGS84
( A new Australian datum called
GDA2020
is also currently under development by the ICSM. We plan to add support for this when details become available in 2017 ).
Click here for instructions on how to use AusDatumTool



BinaryEarth.net